ABOUT THE PERFORMANCE
Join the Kindred Spirits Orchestra in celebrating the opening concert of the season. Start the evening off in style with an opening night gala followed by music that conveys the deepest of emotions. Dukas calls the audience to attention with his Fanfare introduction to the Persian inspired "poème dansé", La Péri. Internationally renowned violinist Conrad Chow commands the stage with Korngold's romantic film-score inspired Violin Concerto. Written during the turmoil of the Second World War, Symphony in Three Movements by Stravinsky paints the composer's cinematic impression of conflict and battle.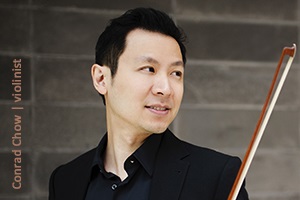 Kristian Alexander | Conductor
Conrad Chow | Violinist
Michael Berec | Host

7:00 PM - Silent auction begins in the theatre lobby and closes at 9:30 pm
7:10 PM - Prélude (pre-concert recital) 
7:20 PM - Pre-concert talk
Intermission discussion with Michael Berec and Conrad Chow
Post-concert live jazz with complimentary glass of Champagne

Dukas, Fanfare pour précéder La Péri - View Notes, Listen
Erik Kreem, Waltz - View Notes, Listen
Korngold, Concerto for violin and orchestra, Op. 35 - View Notes, Listen
Stravinsky, Symphony in three movements - View Notes, Listen

 SUBSCRIBE  and save up to 60%.
INFO
Show end times are not guaranteed and may vary depending on artist. Subject to regular fees. Discounts on base ticket price, not including handling fees and HST. All sales final.
Organizer: Kindred Spirits Orchestra
Phone Number: 905-305-7469
Email: boxoffice@markham.ca
BUY TICKETS